On Saturday, 21 Sep 2019, Mega Artists Media hosted another successful 3rd Annual Dance Tribe Tournament, at Polokwane Library Auditorium. The competition featured at least eight dance crews from in and around Polokwane. In this year's edition of the Dance Tribe, Tough Boiz begged the top spot and won the Dance Tribe Championship Title. Known for their skillful precisions and boisterous charisma, Tough Boiz Dance Crew exhibited passion, precision, creativity, and professional-pantsula choreography and proved that their grit and determination will not go unnoticed. The crew won an Acrylic trophy, R5000 cash prize plus bragging rights.
Tough Boiz Dance Crew is an all-male Pantsula dance crew from Limpopo, Ga-Makanye, TŠolaborokgo village. The crew was formed in 2010 with originally three members, namely Koketso Mafotsa, Johannes Chabalala, and Jimmy Kgafane. Tough Boiz Dance Crew has been entering several competitions around Limpopo and their rise to stardom started when they won 1st position at University of Limpopo Heritage Festival Contemporary Dance in 2017, 1st position at the Polokwane Got talent 2017, 2nd position at 2nd Annual Dance Tribe Tournament 2018.
Tough Boiz Dance Crew, winners of the 3rd Annual Dance Tribe Tournament: (Koketso Mafotsa, Jimmy Kgafane and Johannes Chabalala)
Koketso Mafotsa, Tough Boiz dance crew leader says winning the title is a dream comes true for the crew. "I am failing to find words to express our excitement. We have been waiting for this moment for the longest time. We prepared for this competition since last year when we won the 2nd prize and we promised ourselves that next time we are going to win. We just want to appreciate everyone who supported us throughout this experience. Thank you to Mega Artists for creating a platform for us," said Koketso.
There's been a bit of a change on the judging panel for this year's Dance Tribe Tournament 2019. Even with experience and knowledge, the judges had the most difficult task deciding who wins the tournament. Matabo Mathekga, Zodwa Mdingi, and Godfrey K Slash Moloto were on the three all-new judging panel. Matabo Mathekga, is the Director of Mowedi Projects, record label owner of Realocha music and manager of an award-winning kwaito artist dance crew called Kasi Kings. Zodwa Mdingi, is Miss Baroka Fc 1st Princess with more than thirty modeling title on her name, she is a student at the University of Limpopo, model, coach, philanthropist, MC, and a radio presenter at MotionsenseHD. Godfrey K Slash Moloto is a Choreographer, Hip Hop Artist, Songwriter, Motivational Speaker, and K Slash Clothing Brand Founder. He won the Annual Arts National Talent competition and qualified to go to Orlando in the US to compete in the Arts International Showcase, won Showville SA on SABC 2 and was a judge on Street Cred on SABC 1. He's also an Events Organizers/Promoter at Gamblers Saloon.
Judges of the 3rd Annual Dance Tribe Tournament: Matabo Mathekga, Zodwa Mding, and Godfrey K Slash Moloto
Dance Tribe Tournament project organizer, Jack Ramoshaba says The Dance Tribe Tournament is aimed at contributing to the development and support of dancers. 'We have realized that Limpopo doesn't have a platform where dancers showcase their talents in the Province. Every time there's a dance competition they have to travel to other provinces to participate and this has been a costly exercise for them. But also the tournament is not only about winning, but it also focuses on nurturing the whole dancer to be more competitive and remembering what a dance competition is about and exposing them to a bigger platform with a larger audience," said Jack.
Sweet Disaster and Amadelicious dance crew were the runners of The 3rd Annual Dance Tribe Tournament 2019. Sweet Dancers took first runner title and walked away with R2000 and Amadelicious were the 2nd runner up winning R1000. Elias, the leader of Sweet Disasater said this was a great opportunity for the youth to horn their skills and take dancing seriously. "I am very grateful for this opportunity because it teaches us to be organized and disciplined. We need more of these platforms."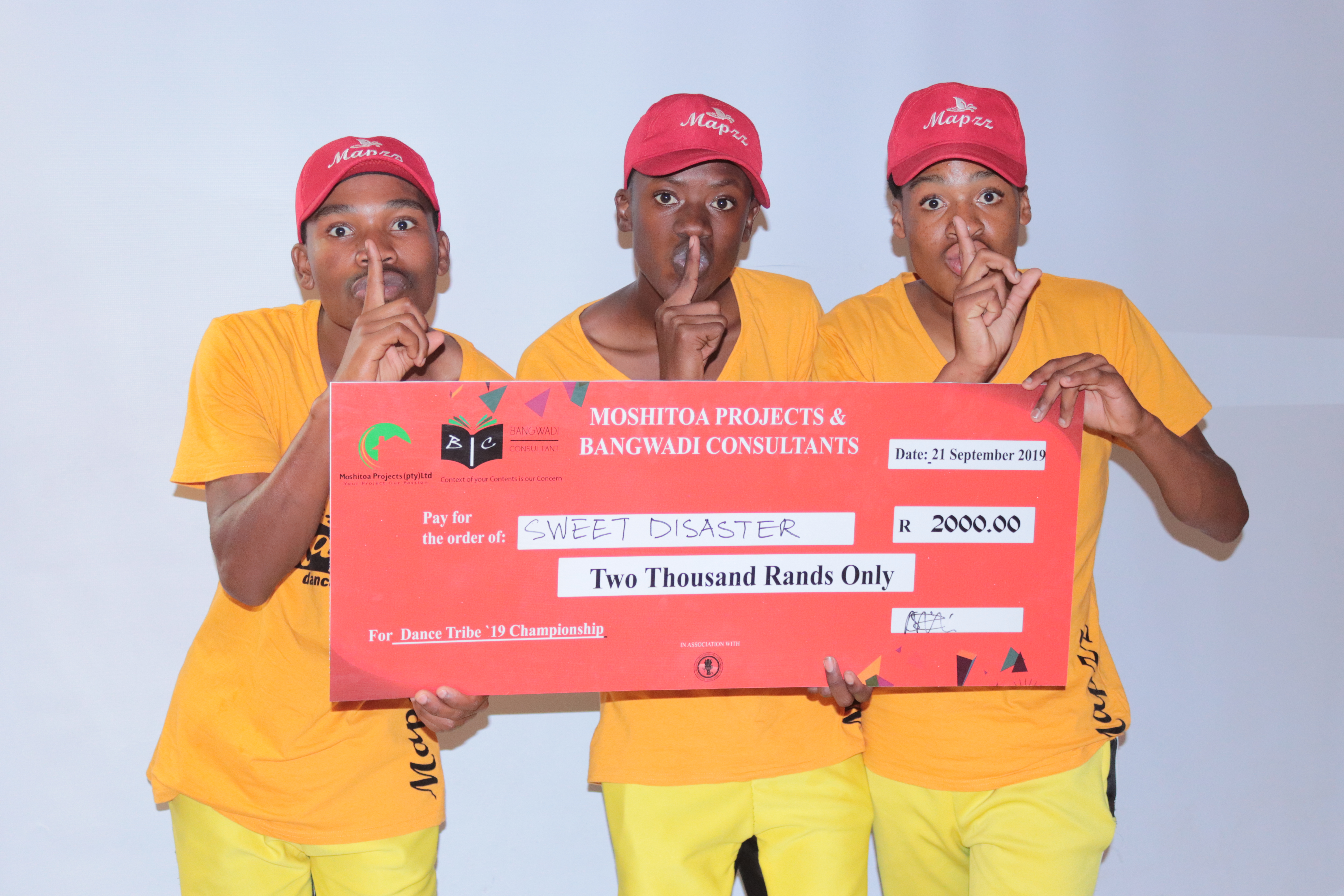 2nd runner up: Sweet Disaster Dane Crew –
1st runner up: Amadelecious Dance Crew