#StorytellingThursday – Moruti wa go SEXA! (Forget the Bree trip for a while; we'll get to it once I'm done ka baruti)
So guys, moruti wa di chicken livers wasn't my first encounter with moruti wa mehlolobilitimentarisms. Yaz bazalwane I have met wonderful men of God in my life. And those that give baruti maina a mabe maan! Ka 2012 I met moruti because I needed prayers guys, remember I was going through bo ma depression and all, and I believed if I turned to God things would just become better and yeah…. so a friend invited me to church and encouraged me to talk to one of the pastors about my mathatas. I approached this one pastor, he was doing the moneelo preaching and he just moved me, afterwards ge ba bitša alter call ya ba go nyaka go pholoswa I was number one wa go emiša letsogo because guys, pastor owa rera.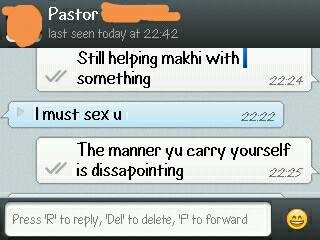 So, after receiving Jesus I go to pastor and tell him mathata aka , ke mmetha ka summary and he says nah fam, we need to fast and pray about this, the devil is having fun ka your life. I'm like yeah pastor, let's deal with this ka prayer. Moruti requested my number, and said he will help me with scriptures and fasting and I was happy because guys, umfundisi is willing to help me fight my demons.
About two weeks later, moruti asks me gore ke dula which res, I say MBA. But, MBA was strict when it comes to male visitors, you had to go down and sign for him. But not with moruti, after I confirmed my room number to him, he came knocking at my door. I was shook, I asked him who signed for him and he said yena masecurity a mtseba, he told them gore o tlo rapelela molwetši. Guys, moruti wa maaka. I'm like, okay moruti, here is a chair. Moruti sits on the chair for just two minutes and jumps on my bed. He tries to pull me towards him in a way that would allow me to sit on his lap. I jumped and said NO moruti, and umruti said to me, stop behaving okare o mokgekolo, roko ye ya gago ke ye telle ebile. That time ke di jele ka maxi dress ya black and white. Luckily, just after that moment, Tšhego came to my room, and she has always been a "one knock and open the door person", so when she budged in and found me and moruti, he said his goodbyes and left.
I thought that was it, kante nooo. So moruti started telling me gore he's gonna marry me, but that time he's in a courtship and everyone in church knows. I politely declined because I was still trying to respect umfundisi, but hay ke, it escalated. This one night, I am busy helping Makhi Joan ka something with Chabo, and moruti sends a text and says he needs to see me urgently. I tell him that nah fam, I'm busy with something and will see you once I'm done, and only if you're still awake.
I had expected an "okay" answer when I got the "I AM GONNA SEX YOU" text. 😱😱 Like, umruti was saying this. I was shooketh, like my letswalo shifted and slapped me on my throat, I almost choked. I straight up told him that I wasn't coming. And he begged me, and said he apologises and he wants to talk about something serious. Me being me, a new born again and believer, I was like okay mruti, ke a zwakala. He repeated the words, but this time with an emphasis, "I MUST SEX YOU" 😱😱 shuuuuu, warris wrong with mfundisi bakithi? He needs fire 🔥🔥🔥 this one moes, tše ke madimoni, spirit of lust…the thoughts went on and on. Guys, I told pastor that yaz fam, "The manner [in which] you carry yourself is disappointing" I started asking him about his values and ethical expectations as a pastor who's busy saying such things to me, and told him how he gives pastors a bad name. I went on and on and he just went offline. I eventually fell asleep.
I saw him again about two weeks later and he apologised. Guys, I accepted the apology because bible ere forgive and you shall be forgiven. He told me that he was out of the country preaching kae kae mafaseng, and said I should come watch this video of the conference in his room the following day. Me again, I vumad shem. I went and knocked on moruti's door and he opened, that time I get shook even more because moruti o bula lebati a aperi skhindi guys, like that bvd ya somnganga zomtlimarela, ka vest nyana. I tell him that I am not coming in unless he dresses up, and he asks me why ke itira mokgekolo.
I told him straight up that I'm not gonna allow him to play with my mind, and left. About a month later I was told that umruti wa go sexa had impregnated some girl in church and was linked to a few more. I was hurt guys, not because I wanted umruti, but because I had hoped umruti was actually keen and willing to help me deal with my demons through prayer and fasting, not through him gonnaring and mustering sexing me💔💔. Mruti got married to that girl he was in a courtship with not long ago, and they have a child now.
I hope he has changed.
The end.